Sorry for all the pictures today, I got a bit snap happy!
Wearing my New Look faux leather jacket again, this time with a random top, goodness knows where from, my fav wide leg trousers, knee high boots and an amazing necklace/scarf that was made for me!! I also wore my vintage pearl necklace, and my vintage handbag, purchased from
Temporary Secretary's
ebay shop. I figured a touch of vintage style would dress up the jacket enough for a day at work, and also, the all important School Gate....!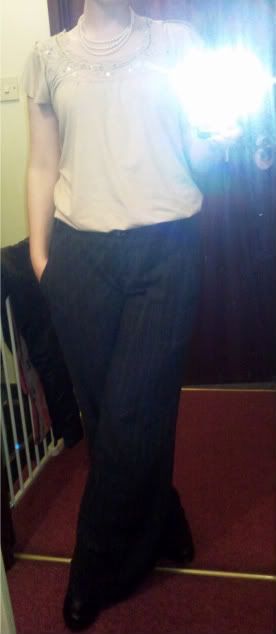 Ignore the bad hair day.... wowzers! These are the boots I mentioned on Sunday, from Schuh a year or so ago, only problem is they are a size 3/36 and I generally take a 4/37 in boots. But because these are so fab, I persevere lol!
I'm now away to hoover the hall again after seeing that picture of my boots!!
xx