Do you remember on Saturday how I was paying a little too much time on My-Wardrobe.com? Well it seems if you spend long enough on their website, enter a few numbers that you find on a plastic card in your purse, and then they will send you a really really big box!!
Inside the box, was a shopping bag, which is filled with cute little presents! they are nice, the people over at My-Wardrobe.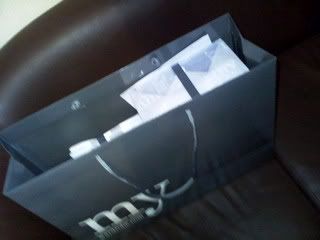 I purchased 4 pairs of Jonathan Aston tights, in black, smoke, teal and velvet purple. These are a great brand, relatively hard wearing, great colours, and a great price too, £5.50 on this website, but also found on loads of other sites. I also purchased the D&G butterfly, it was far too cute to pass on! and its even cuter in real life, made from 100% silk, it will flutter in the breeze!! I cant wait to try it out tomorrow.
And now for the shoes. I did mention that I'd solved my Red Shoe Shortage, and I dont do things by halves. I have also solved that I Dont Own Any Vivienne Westwood Shoes issue that I've had for a while. Ok, so they are Melissa, and they are Anglomania, but by heck they are fabulous!!!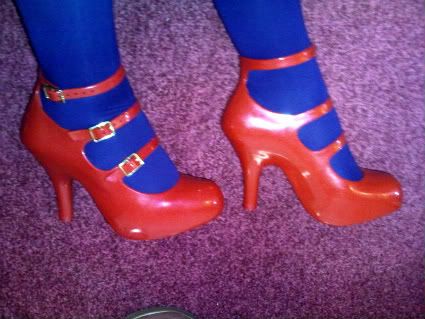 So shiny, and pretty and strappy and fab! The perfect combination for a pair of heels. I only wish they had a slightly clawed toe, like some other of the Melissa for VW styles. I do own plainer Melissa heels, and although they are reasonably comfy, they do something odd to one of my right toes, which can hurt after a while, but I know its my feet to blame, and not the shoes!
Janine of
Shoe Asylum
has a pair with clawed toes, and she is also a huge fan of the Melissa rubber shoes. I'm sure she will be a tad green seeing these on my feet!! But she has Louboutins, so she wins ;)
xx