I have been enjoying the trend for draped, exaggerated hips, on skirts and dresses. Harem pants I still don't understand, and don't think I ever will! But a bit more detailing on the hips can make your waist and legs look smaller in comparison, so its not all bad!
A good way to try any trend, is to buy it cheap. Primark, Matalan, New Look, whatever your favourite is, you are bound to find the latest styles in there, and for less than your weekly Starbucks spend! Primark is where I found mine, for the bargain amount of £2! Well, I couldn't say no.
Rather than buying another black skirt, I went for grey. Its a great colour, goes with just as many colours as black does, only looks less gloom, and less formal. I teamed it with a simple blue vest, cropped black jacket, fabulous branch necklace from
Love Hearts and Crosses
, and a pair of my favourite brand heels, Irregular Choice.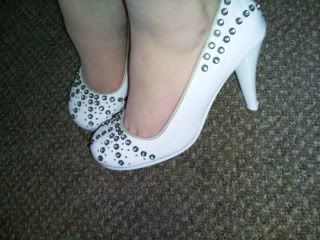 Staying tight on top is a must. You should never go for volume all over unless you want to look like you are wearing all your clothes at one time. High waisted skirts are the easiest, simply tuck a t-shirt, or shirt into it. Accessories and shoes shouldn't be too fussy, use the less-is-more approach to draping, as the skirt is the statement piece of the outfit.
One of my best friends on the web loved this skirt when I posted it, so next time I was in Primark, and I saw it marked down to only £1, I had to buy it for her!
ShoeGalFi
wore it more dressed up for work, with purple tank top and a gorgeous corsage. She also paired it with blue another day, I think she has a thing for blue.....! You can check out her outfits
here
, and
here
.